Macro Recorder - Automate Repetitive Tasks
PTFB Pro is a powerful macro recorder with a whole host of features that power users will love. A simple, intuitive interface allows you to quickly and easily delegate repetitive tasks to PTFB Pro with the minimum of fuss and without interruption to your workflow. No scripting language to learn, no steep learning curve - just a couple of mouse clicks and those tiresome tasks, interruptions and irritations are a thing of the past.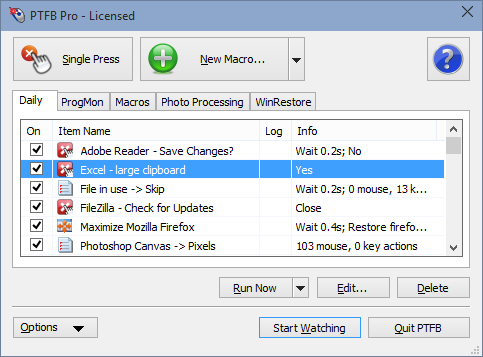 Read More | Skip to the Feature List | Try it Now - 30 Day FREE Trial
Macro Recording Made Easy
The purpose of a macro recorder is to automate tasks, saving you time and finger wear and freeing you up to concentrate on your job. It's therefore important that the process of creating the macro doesn't become more time consuming than the problem you're trying to solve! PTFB Pro can quickly and easily be configured to fit seamlessly with the way you work.
Creating a macro in PTFB Pro is simple
PTFB Pro watches you carry out the actions once, and is then able to repeat those actions automatically in the future without further intervention. Those who need more control over the macros will find a host of options for editing the actions they perform and the conditions under which they trigger.
Triggering Options
No matter how sophisticated your macro, unless you have powerful mechanisms for determining when that macro should run you are very limited in the type of task you can automate. In many cases it would be appropriate to assign a macro to a hot key and have it run every time you hit that key combination. But that's no use in situations where you don't want to be interrupted while you're working, or when there's no one at your computer.
PTFB Pro provides a variety of sophisticated triggering options:
A macro can be assigned to a hot-key combination
A macro can be scheduled to run at a specified time/times
A macro can be run from the command line / batch file / from within other programs.
A macro can be triggered in response to specified events on your computer:
- A specified program starts up
- A given window, form or prompt appears
- A specified program hangs ("is not responding")
- A program is/isn't running at a specified time.
Macro Editor
PTFB Pro's macro editor lets you fine tune your macros through a simple drag and drop graphical interface
There's no scripting language to learn, yet you can still add program logic, loops, special commands and trigger other macros. Using these simple building blocks it's possible to automate extremely complex sequences of tasks!
Features for the Office Environment
The latest version of PTFB Pro has the following features to meet the particular needs of office environment:
Silent installation and automatic registration option
Access to PTFB Pro itself, and/or to macro contents can be password-protected
You can create a suite of commonly used macros in one location and share it amongst all workers in your office
If required PTFB Pro can continue to operate when a screensaver has activated or even when the desktop has been "locked"
PTFB Pro's activities can be tracked by text log and email notifications. Command lines can also be executed when a macro triggers autonomously.
Compatible with Remote Desktop
Macro Recorder Feature List
Simulate simple or complex sequences of mouse clicks and key sequences.
Fine control over initial delay and repeat delay (accurate to 1/10 th of a second):

- Repeat macro sequence for a certain number of times.
- Repeat macro sequence for certain length of time.
- Repeat macro sequence indefinitely.

Macro can be triggered:

- According to schedule.
- Whenever a specified program or window appears.
- According to hotkey combination.
- From command line or batch file.

Create macros:

By example - carry out an operation once and PTFB records what you're doing.

OR

By inserting operations manually via user interface (no complex scripting to learn).

Edit macros via intuitive visual interface.
Fine control over playback speed with ability to skip redundant mouse moves.
Chain macros together to carry out very complex operations.
Hide macros from prying eyes - macro file is encrypted, viewing and editing of macros can be password protected.
Share macros between networked computers
Silent install option for rapid deployment of PTFB Pro Macro Recorder on multiple machines. Multi-user registration option and site licenses available on request.
After responding PTFB Pro can optionally:

- Log it's actions.
- Send a notification email.
- Trigger a batch file or command line.

Can operate when:

- Screen saver present.
- Workstation locked.
- In a dormant remote desktop session.
More than a Macro Recorder
PTFB Pro is much more than a macro recorder. You can also use it to:
Find out how much time, money and frustration PTFB Pro Macro Recorder can save you! Download a FREE 30 day trial now.
Windows 7, 2008, Vista, XP, 2003, 2000
Buy it Now
$39.99 USD | 29,99 € | £24.99 GBP
Buy with confidence. If you're not entirely happy with PTFB Pro then let us know within 90 days and we'll give you your money back.
Try it Now
Find out how much time, money and frustration PTFB Pro can save you! Download a FREE 30 day trial now.
What PTFB Pro Users Say